What is a Dentist?
Are you interested in a career in healthcare that has plenty of rewards and challenges as well as an opportunity to help people in your community? You may want to consider a career as a dentist!
Dentistry involves the mouth, teeth, gums and related areas. Some studies have shown that diseases relating to the teeth and gums can be indicative or indicators of some health issues. The health of the mouth is essential to the general overall health of the body and a dentist will encourage and assist their patients in maintaining a healthy mouth by regular cleaning and check-ups.
What does a Dentist do?
A dentist performs many important duties in the maintenance of oral health. Check-ups are a major part of the job and are important for patients keeping on top of their oral care. In addition to general check-ups, general dentistry involves basic treatments that can be done at a regular dental office. Such procedures might include filling a tooth, performing a minor surgical procedure such as a tooth extraction, and cleaning and polishing teeth.
A dentist will encourage patients to practice good dental care by brushing and flossing and getting regular cleanings as these good habits can help prevent cavities and other tooth and gum diseases.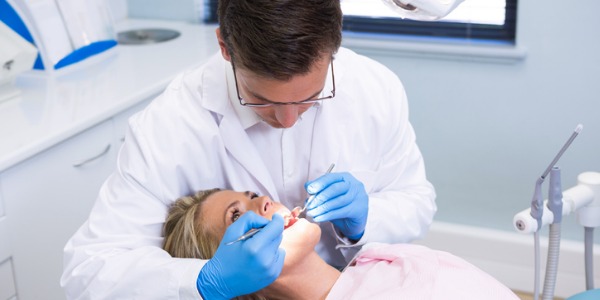 Within dentistry, there are specific specialties which require further training, creating expertise in a particular area. Examples of specialties include:
Endodontics
– the area which specializes in the treatment of the internal tissues or "pulp" of the tooth which is mostly made up of nerves and blood vessels; an endodontist performs root canal treatments and other procedures and examinations involving the inner tooth
Orthodontics
-deals with the straightening and alignment of the teeth and jaw; an orthodontist will fit braces and treat disorders involving misaligned teeth; will also deal with issues involving bone in and around the mouth area which may be related to other health issues
Periodontics
– refers to the area around the tooth, including the gums and other tissues; a periodontist will deal with gum disease and other gum ailments
Prosthodontics
– the area relating to cosmetic dentistry and the appearance of teeth; a prosthodontist fits implants to replace removed teeth and deals with other prosthetics in the mouth
Paediatric Dentist
– specializes in treating children's teeth; may work with other specialists if specific areas (e.g. gum disease) are involved
Like most careers in the health industry, a dentist is required to be caring and compassionate as well as clever and competent. Since many people are afraid of visiting a dental office for treatment, it is beneficial for a dentist to be good with people and to be able to reassure them and explain procedures to them in a simple way.
Dentists are also known as:
General Dentist
Doctor of Dental Medicine
Doctor of Dental Surgery
Family Dentist
Doctor of Medicine in Dentistry