Yangon some people still call the old name Rangoon, is the capital of the Yangon Region and the largest city of Myanmar (Burma). Yangon served as the capital of Myanmar until 2006, when the government relocated the new capital city of Naypyidaw 5 hour drive away
Yangon has population of over 5 million people, Yangon is Myanmar's most populous city and its most important commercial center. There was almost 4.4 million foreign visitors to Yangon in 2019. In this article Myanmar Travel listed contact of top 10 hospitals in Yangon in case you may need.
This list of 1o hospital in Yangon arranged in random order
Asia Pacific Medical Centre
Like Academy Private Hospital, this is another private hospital with international medical service standards.
Address: 98A, Kabaraye Pagoda Road, Bahan Township,Yangon,Myanmar
Phone: +95 1 553 783
Pun Hlaing International Hospital
If your destination is or nearby Hlaing Thayar Township, visit Pun Hlaing International Hospital for checking your health problems.
Address: Pun Hlaing Golf Estate Avenue, Hlaing Thayar Township, Yangon
Phone: +95 1 368 4323
International SOS Clinic Yangon
Besides public and private hospitals, you can choose a reliable clinic for medical care and International SOS Clinic Yangon is one of them. The clinic opens from Monday to Friday from 8:30 am to 5:30 pm and Saturday: 8:30 am to 12:30 pm.
Address: Inya Lake Resort, 37 Kaba Aye Pagoda Road
Phone: +95 1 657 922
Australian Embassy Medical Clinic and Dental Surgery
This famous clinic and surgery is also a recommended place with Australian standards and a team of professional doctors. it should be on the private hospital list in Yangon when you travel to Yangon.
Address: Unit 206, Golden Hill Tower, 24-26 Kaba Aye Pagoda Road, Bahan
Phone: (01) 558353
Home Medicare Service Clinic
Check out Home Medicare Service Clinic if you are in Lanmadaw Township, Yangon.
Address: No. 30 Shwe Taung Tan Street, Lanmadaw Township, Yangon, Myanmar (Burma).
Tel: +95 1 225791
Read more: Things to do in Yangon
Academy Private Hospital
Academy Private Hospital offers qualified doctors, coupled with high-quality medical services. Therefore, it deserves to be one of the top private hospitals in Yangon.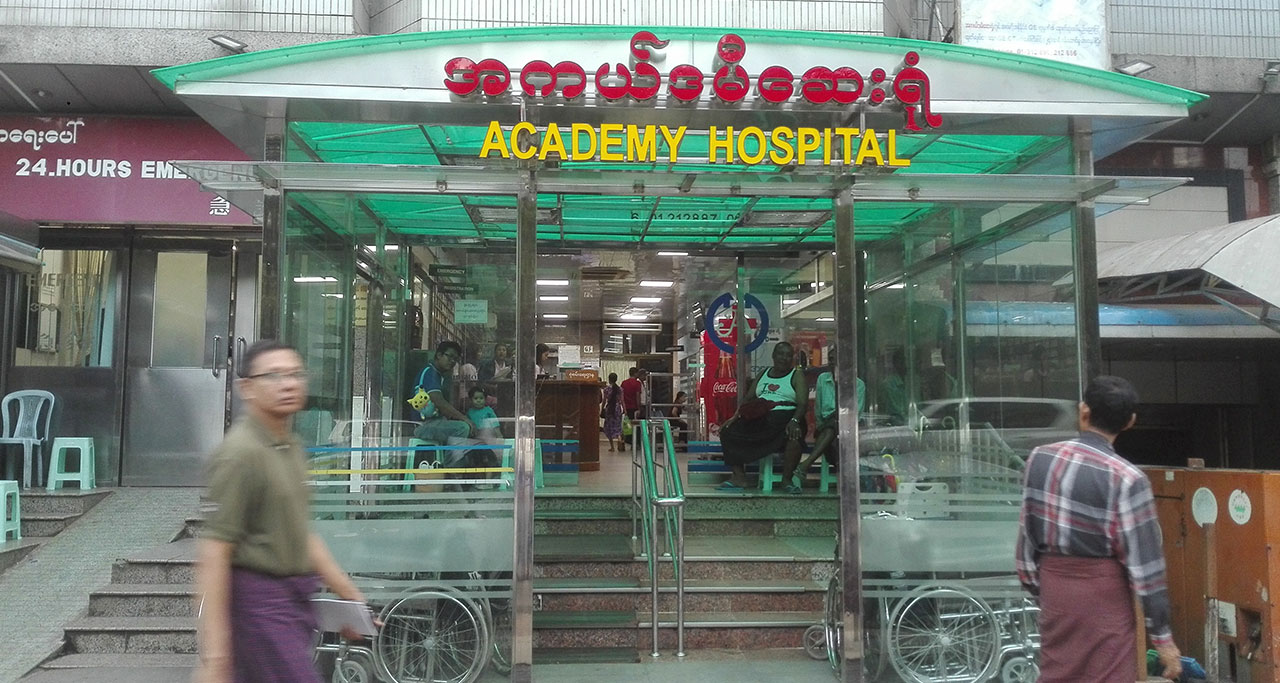 Address: 335 Lower Kyee Myin Daing Road, Htar Nar Ward, Yangon, Myanmar (Burma).
Tel: +95 1 229 746
Pacific Medical Center
Pacific Medical Center is reliable for medical care.
Address: 81 Kaba Aye Pagoda Road , Bahan , Yangon , Myanmar (Burma).
Tel: +95 1 548022
Sakura Medical Centre
Visit Sakura Medical Centre if you have any health problem while you are in Yangon tours.
Address: 23 Shin Saw Pu Road, Sanchaung Township, Yangon, Myanmar (Burma).
Tel: +95 1 510 079
Asia Royal General Hospital
Asian Royal General Hospital has a reputation for high-quality services and talented doctors.
Address: 14 Baho Street, Sanchaung Township, Yangon
Phone: (01) 538055
Shwe Gon Dine (SSC) Specialist Centre
Shwe Gon Dine (SSC) Specialist Centre, as its name states, is a reliable place for medical care.
Address: 7 Shwe Gon Daing (East) Street, Bahan, Yangon
Phone: (01) 544128 or 544116